When Is It Safe to Get a Prenatal Massage?
Massage for pregnant women is one form of care that exists in many Asian cultures, and has made its way into our modern lives too. Prenatal massages are usually done for health purposes, and to relieve discomfort as the pregnancy progresses.
It's usually viewed favorably by mothers as it offers a natural therapeutic approach for many of the side effects felt during pregnancy.
During prenatal massage, especially from PNSG, trained therapists will be administering traditional Javanese massages that are known to help pregnant women in general. However, some of you will be wondering when the best and safest time to get your prenatal massage is.
Here, we will discuss when you should schedule your massage sessions, and the safety and common health precautions taken for prenatal massages.  Before that, we should try and understand how prenatal massage is beneficial.
The Benefits of Prenatal Massage
1. Improves Blood Circulation
Massage for pregnant women is able to increase the flow of blood, especially to the areas that need healing thereby reducing muscle tension and pain. This is important during pregnancy as many areas of the body, like the feet and back, are strained from the added weight of your child. 
Apart from that, more efficient blood circulation also means that nutrients are able to reach the different areas of your body, for improved metabolism overall.
2. Reduces Swelling
Certain hormonal changes within a mother's body means that she develops water retention in certain parts of her body, particularly her feet. This may make it difficult to move around. Massages are able to reduce swelling and therefore discomfort in your feet and calves.
3. Reduces Hip and Back Pain
Having a massage in areas and joints that carry the added weight from your growing child will help to relieve pain in a natural and non-invasive manner. These include the lower back, hips and pelvic muscles. Helping the muscles relax is one of the main contributors to decreasing pain and discomfort.
4. Helps Improve Rest and Decrease Stress
It's no secret that massage is able to relieve stress and tension, not just physically but mentally as well.
The soothing sensations of muscles being squeezed and released help bring about the release of hormones related to relaxation such as dopamine and serotonin. This will lead to better sleep too. 
5. Reduces Leg Cramps
Poor circulation can sometimes lead to leg cramps, as well as certain hormonal changes during pregnancy. Since massaging your legs helps with circulation, you can also look forward to less leg cramps with regular massages.
When is the Best Time for a Prenatal Massage?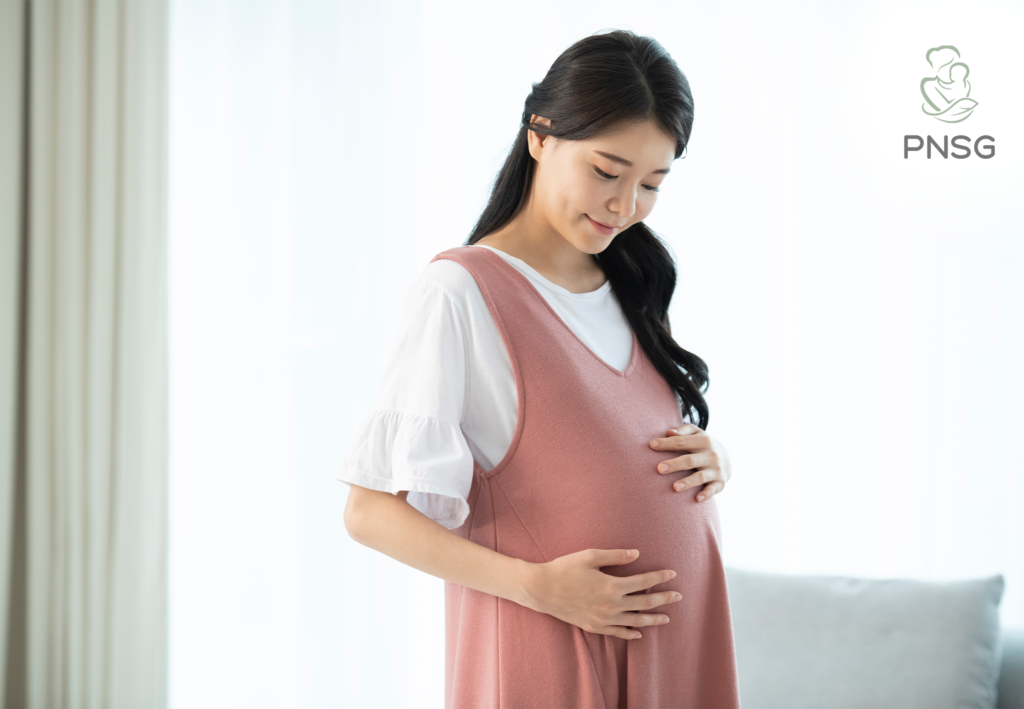 Our experts at PNSG recommend that you start your prenatal massage at 28 weeks of pregnancy onwards, which is about your 7th month of pregnancy. Your final massage session should be about 2 weeks before your expected due date (EDD). 
These times are recommended so as not to overstimulate your baby. If you would like to start your prenatal massage before the 28th week, you will have to obtain approval from your gynecologist to ascertain if you and your baby are physically fit enough. Some mothers have begun prenatal massage sessions at their 16th week of pregnancy after a green light from their doctor.
We only recommend having one massage session a week, for the same reason mentioned above. Sessions can be booked on weekdays, 3-4 days in advance.
At PNSG, we provide specially trained massage female therapists who are well experienced. They will be able to perform your massage sessions in the comfort of your own home with each session lasting about 60 minutes.
Safety During Your Prenatal Massage
As always, your safety and the safety of your baby are of primary concern. This is why our professional therapists administering prenatal massages will avoid sensitive areas like the breasts and abdomen, so as not to cause any contractions.
Health experts have also assured mothers that massage does not and will not induce labor. This is a misconception and you should be safe as long as you keep to the recommended period for prenatal massages and stop 2 weeks before your due date.
If you are still unsure, you should speak to your specialist about it, in order to put your mind at rest and gain clearance regarding your physical condition.
Plan Your Prenatal Massage Sessions Early
You might be asking "Is there a pregnancy massage therapy near me?"

Massage therapists from PNSG will be able to provide services in the comfort and safety of your own home, so that you don't need to travel out in your condition.
Planning your prenatal massage sessions is easy, as you can arrange for a massage session only 3-4 days in advance. The end of your second trimester and the entirety of your third trimester is when physical strain starts to take a toll on your body. You can minimize this and alleviate discomfort easily, with your very own personal massage session. In addition to prenatal massage, PNSG also offers massage after childbirth, to help in your healing and recovery.