What Does Jamu Postnatal Massage Do?
When you think of "massages", what's the first image that comes to mind? A masseuse who rubs a bit of oil here and there, and then applies pressure on your body, right? Sure, it is supposed to make you feel good and help relieve stress. However, did you ever think about the science that goes into the art of these Jamu Postnatal Massages?
Let's get a little more acquainted with this wondrous technique called the Jamu Postnatal Massage. What is it? Where did it originate from? Why is it "Jamu" and not "Jambu" or "Jambi" instead? Okay, maybe that last one was just something we get curious about from time to time, but the fact still remains that there are a whole wealth of benefits to be had from one of these massages, and understanding left to be learned from the culture that gave this gift of healing to the world.
History
Jamu got its name from the words "Jampi" referring to a type of traditional treatment or healing solution that includes prayer or magic spells and "Oesodo" which translates to health. That's not to say that Jamu massage in this day and age still utilises magic or anything of the sort…although it would be so cool if there were magic spells and incantations ala Harry Potter that one could invoke and just magic the water retention away.
Simply put, Jamu is actually a traditional herbal medicine made from a special plant or, in some cases, several plants that are mixed to produce a concoction or topical remedy. That's where history ends and modern massage, as we know it, begins.
These days, the magical prayers and spells may be all but gone in Jamu Massage, but the healing properties of oils, creams, and ointments are retained to be applied on the body.
Authentically Javanese, Jamu Massages first came to be in recorded texts as early as the 17th century and the term Jamu, by then came to be common parlance for herbs.
How It Works
As for the massage itself, it's a deep tissue massage performed by a skilled masseuse involving deep thumb pressure where slight aching sensations may be felt. The massage targets tensions caused by strains placed on your body throughout pregnancy and alleviates your post-birth pains and discomfort.
Benefits
The main focus of this widely-famous massage is its toning effect on the body. Secondary side benefits are that it relieves water retention, promotes better sleep, improved lactation, reduces post-surgery swellings, and speeds up womb recovery.
Tone Body & Reduce Water Retention
After childbirth, new mothers are often concerned about baby weight and water retention. With the unique Jamu postnatal massage technique, the masseuse will help reduce water retention in specific areas such as the tummy and thighs. The massage also improves your blood circulation to help you burn body fat faster.
Another hypothesis of how this helps in toning your body is that you get more relaxed as the massage coupled with the oils can act to destress which may be beneficial to aid in the efficacy of supplementary exercise regimes. After all, we all know just how much weight can be gained when we are stressed out.
Improve Sleep
New mothers often feel weak and exhausted after the process of childbirth. Jamu Postnatal Massage Therapy can help you to ease tiredness by promoting calmness for better sleep quality. It is also proven that this postpartum massage can greatly help postpartum mothers to ease muscle tension, promote blood circulation and reduce stress.
Promote Lactation
Jamu Postnatal Massage Therapy may include a breast massage technique that relaxes muscles in breastfeeding mothers, which naturally helps to lower their stress hormones, improve blood circulation and decrease swellings. This lactation massage would help to relieve engorgement and promote breast milk supply as blocked ducts are cleared.
In addition to the unclogging of blocked ducts, a soothing breast massage like this one could trigger and stimulate the brain into producing a hormone called Oxytocin which helps in relaxing the milk duct muscles and hence aids in promoting milk flow.
Reduce Post-Surgery Swellings
Regardless of delivery method, mothers who go through childbirth often struggle with post-surgery swellings. Jamu postnatal or postpartum massages can help to ease sore spots and relaxes muscle tension, particularly on the abdomen, lower back & hip area. Post-pregnancy massages also help you to release the stiffness caused by breastfeeding and incorrect latching positions.
Speed Up Womb Recovery
Pregnancy and childbirth both bring significant changes and impacts on a mother's well-being. Jamu postnatal massage includes a womb massage that helps assist with womb recovery and womb care by encouraging the discharge of lochia, as well as the repositioning of pelvic muscles and abdominal organs.
We would like to thank you for taking the time to read through our article taking a look at the benefits of Jamu postnatal massage.
If this article has tickled your interest and you would like to know more about Jamu massage post pregnancy and about Jamu slimming in general, feel free to read another one of our articles here.
Closing Words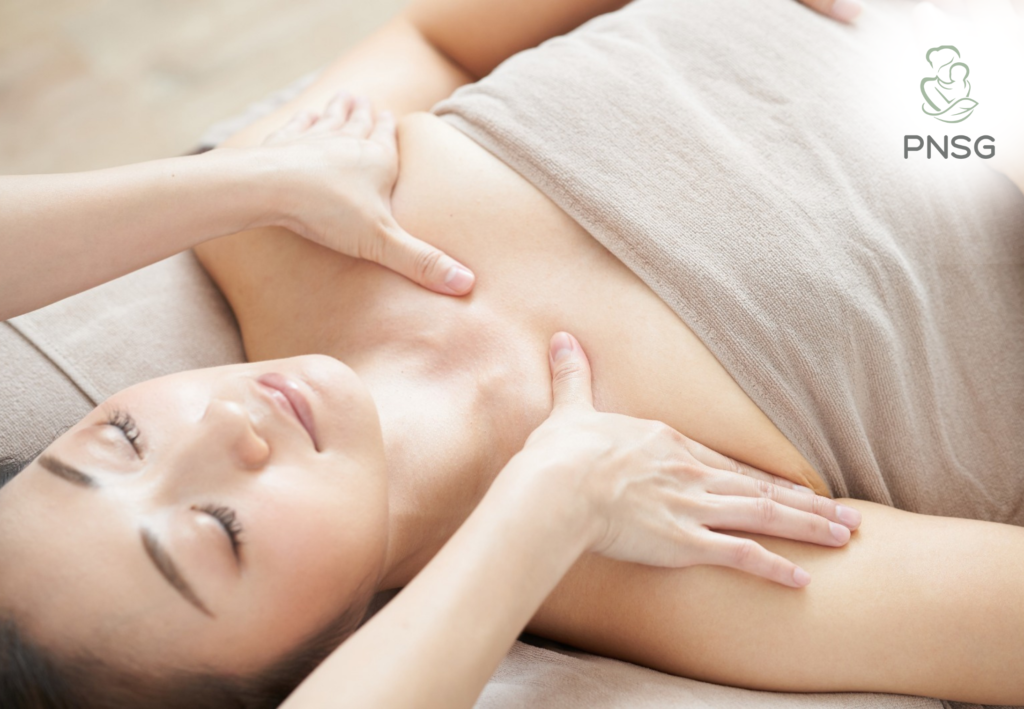 Before you go, did you know that, in Singapore, PNSG is synonymous with providing the best postnatal massages for recovering mothers and those who are looking to get a handle on the whole postpartum weight issue? You could learn more about our services from our website or, if interested, a relaxing and luxuriously soothing body toning massage experience awaits you.