Most Asked Questions About Prenatal And Postnatal Massage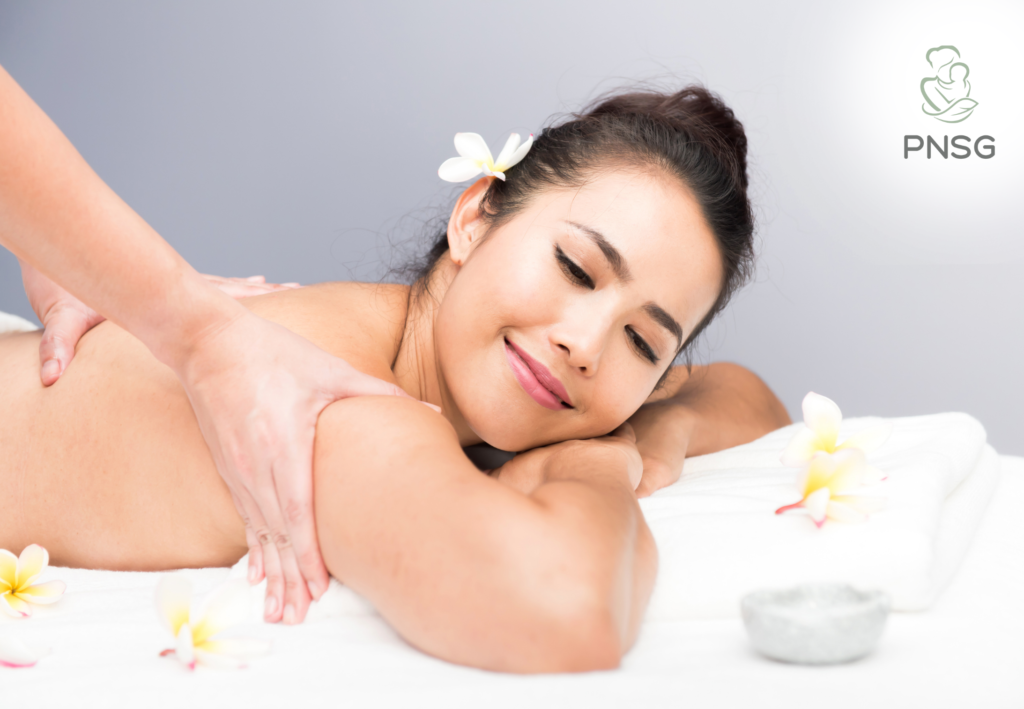 It's good to know what to expect before getting a postnatal or prenatal massage. Here are a few questions that have been asked by mothers about massage from time to time.
Prenatal Massage
How does prenatal massage benefit me?
Relieves Soreness, Back Pain and Leg Cramps
Muscle soreness, leg cramps and back pain are common struggles among mothers-to-be. Prenatal massage can be helpful to soothe these discomforts. The massage relieves muscle tension in the targeted area and soothes inflamed nerves. Getting rid of these discomforts can significantly improve your quality of sleep during pregnancy.
Promote Blood Circulation and Reduce Swelling
Prenatal massage can help reduce swelling by removing water retention around the body, especially at the calves and feet. Also, prenatal massage can help mothers with a smoother delivery process by soothing strained muscles.
Minimise Lower Hip and Back Pain
Most pregnant mothers are troubled by sore muscles and tiredness from the weight of their growing baby. Prenatal massage helps to relieve the stress on joints caused by increasing weight. The massage also helps to reduce soreness in the hip and pelvic area.
Promote Relaxation and Reduce Stress
It's common for pregnant mothers to face sleep issues such as finding it hard to fall asleep, or being unable to sleep through the night without waking up. Low quality of sleep or sleep deprivation can add more stress to your pregnancy. Prenatal massage helps by promoting calmness and improving your mood.
Is prenatal massage safe?
Yes, prenatal massage is generally safe for all pregnant mothers, provided that you get a green light from your doctor, and you get your massage in a safe period of your pregnancy. The recommended period to get prenatal massages is after 28 weeks of pregnancy and the latest by 2 weeks before your estimated delivery date (EDD). At PNSG, all massages will be performed by certified therapists. Our massage lady Singapore team is also well-trained to give you peace of mind. That said, every pregnancy is different. So if you have any doubts and concerns about getting a pregnant lady massage, be sure to consult your doctor before you start.
When can I start getting a prenatal massage?
The recommended period to get prenatal massages is after 28 weeks of pregnancy and the latest by 2 weeks before your estimated delivery date (EDD). If you would like to get your prenatal massage home service between week 16 to week 27 of pregnancy, please consult and get a green light from your gynaecologist to make sure you are in a good condition for it.
How often can I get a prenatal massage?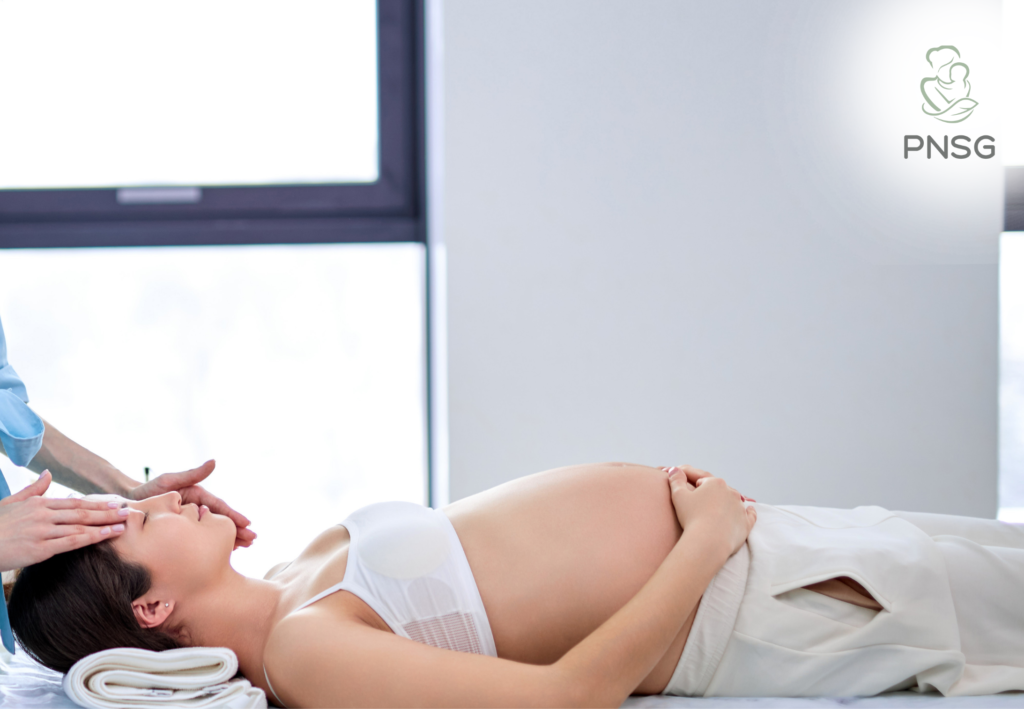 Like all things in life, pregnancy massage spa should be done moderately to ensure you and your baby's wellbeing. We recommend that prenatal massage be done for a maximum of once a week to avoid over-stimulating the fetus.
Does prenatal massage induce labour?
You can rest assured that prenatal massage does not induce labour. At PNSG, our massage lady Singapore team members are equipped with the skill and knowledge to avoid massaging sensitive areas of your body during pregnancy. For example, your prenatal massage will not include breast and abdomen massage to prevent contractions.
Postnatal Massage
How does postnatal massage benefit me?
Reduce Water Retention and Tone Body
Postpartum mothers often struggle with losing stubborn baby weight and water retention. Our massage therapists help to improve your situation with authentic Javanese massage techniques and products that thousands of mothers have found to be effective. Specifically, postnatal massage can help you to burn body fat faster by improving your blood circulation. It also reduces bloating by removing water retention around the tummy, thighs and arms.
Improve Quality of Sleep
Childbirth can take a toll on a mother's energy level and mental wellbeing. Postnatal massage can help to encourage relaxation for better sleep quality. Many others also find postpartum massage to be a great help in easing muscle tension, improving blood circulation and reducing stress.
Improve the Flow and Supply of Breast Milk
PNSG's postnatal massage includes a breast massage, which helps to relieve breast engorgement, clear blocked ducts and ultimately improve your milk flow and supply. Postnatal massage also helps you to release the stiffness caused by breastfeeding and incorrect latching position. Stress can lead to a low milk supply. Hence, postnatal massage relaxes muscles in breastfeeding mothers, which naturally helps to lower your stress hormones, improve blood circulation and decrease swellings.
Relieve Post-Surgery Swellings
Postnatal massage helps to ease sore spots and relaxes muscle tension, particularly on the abdomen, lower back and hip area. Postnatal massage also helps you to release the stiffness caused by breastfeeding and incorrect latching position.
Promote Womb Recovery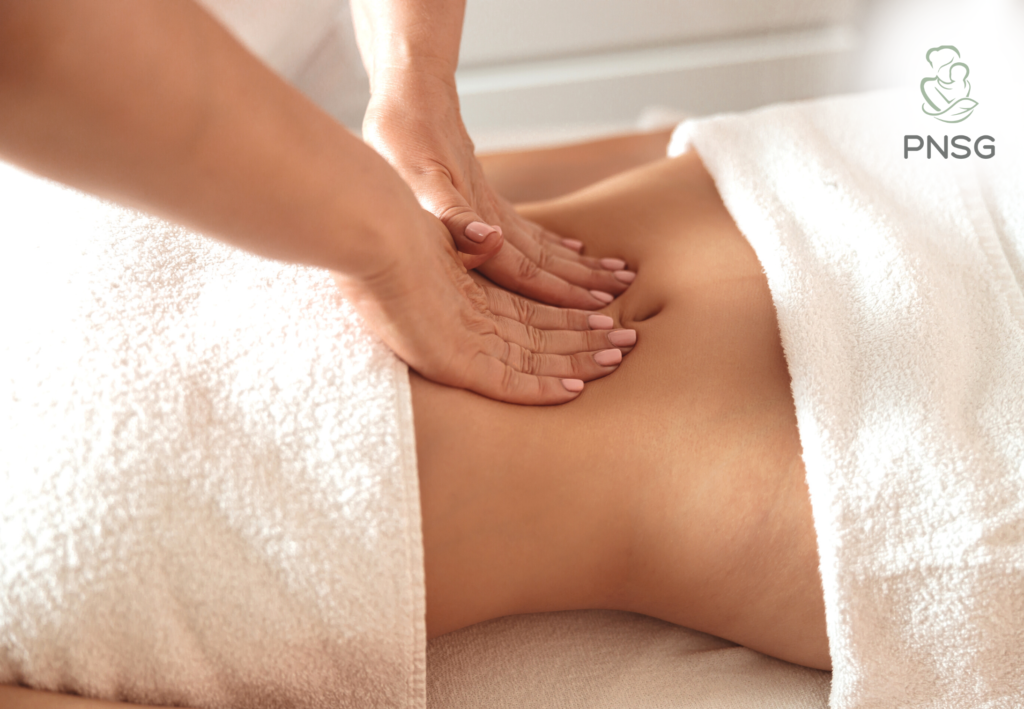 Our postnatal massage includes a massage at the womb area that helps you speed up womb recovery by promoting the discharge of lochia, as well as the reposition of pelvic muscles and abdominal organs.
Is it safe to get a postnatal massage after C-section?
Yes, postnatal massage is generally safe for mothers who give birth through C-section after 21 days from the delivery date. That said, every mother's recovery progress is unique. So be sure to get the green light from your doctor if you are not sure whether you are ready for a postnatal massage. Meanwhile, if you gave birth through vaginal delivery, you can get a postnatal massage any time after 5 days from your delivery date.
During the massage, should you feel any discomfort or you have certain preferences, please feel free to highlight it to our massage therapist and they will be glad to make adjustments for you!
Have more questions?
Learn more about our prenatal and postnatal massage by clicking the menu at the top of this webpage. In the meantime, you can also get assistance from our friendly customer service officers at +6564179690, we are available from 9 a.m. to 6 p.m. daily to assist you as much as we can!