How Our Massage Helps Both Moms & Newborns
It is common for mothers in Singapore to get postnatal massage after giving birth as part of their postpartum recovery routine. At PNSG, our postnatal massage not only benefits mothers, but also their newborns! How so? Continue reading to discover more!
Speeds up postnatal recovery
One of the main benefits of our postnatal massage is that it helps you to speed up your postnatal recovery in many aspects. First of all, our postnatal massage helps promote womb recovery by encouraging the discharge of lochia, and also the reposition of pelvic muscles and abdominal organs.
Furthermore, many mothers find our postnatal massage helpful in reducing post-surgery swellings. Whether you're planning to give birth through vaginal delivery or c-section, you're likely to experience swellings and sore muscles after the surgery. Our postnatal massage helps to ease sore spots and relaxes muscle tension, especially on your tummy, lower back and hip area.
As your postpartum discomforts are relieved after each session, you are likely to feel more like yourself again, and hence you'll have more time and energy to bond with your baby. Hence, in a way, postnatal massage benefits your baby too!
Relieves water retention
Water retention around the limbs is a common struggle among mothers during the postpartum stage. In some cases, they can restrict your movement and affect your quality of sleep. At PNSG, our unique Javanese massage help you relieve water retention around your thighs, abdomen and arms, as well as promote blood circulation to help your body burn fat easier.
Soothes breast discomforts and eases breastfeeding
Many mothers would agree that breast issues like breast engorgement, blocked ducts and even mastitis are the most challenging part during the postpartum stage. They are painful, and often cause a lot of stress as they may affect the supply of milk that you provide to your newborn!
At PNSG, our postnatal mom massage includes a breast massage that helps breastfeeding mothers to improve blood circulation and decrease swellings around the breasts, and also helps to naturally lower stress hormones. Many nursing mothers found breast massage effective in relieving breast engorgement and increasing milk supply.
Promotes better sleep and improves mood
As much as physical recovery is important, your emotional wellbeing plays an important role in ensuring a proper postpartum recovery too. The first few weeks after your baby's arrival is often a period where both you and your partner are constantly tired and sleep-deprived, as both of you need to frequently attend to your newborn's needs. Luckily, PNSG's postnatal mom massage can significantly help mothers to improve better rest and sleep by promoting calmness. When you're in a positive mood and mental space, you'll be able to focus better on spending time with your newborn.
Extra Perk for PNSG Customers: Free Baby Massage Tutorial!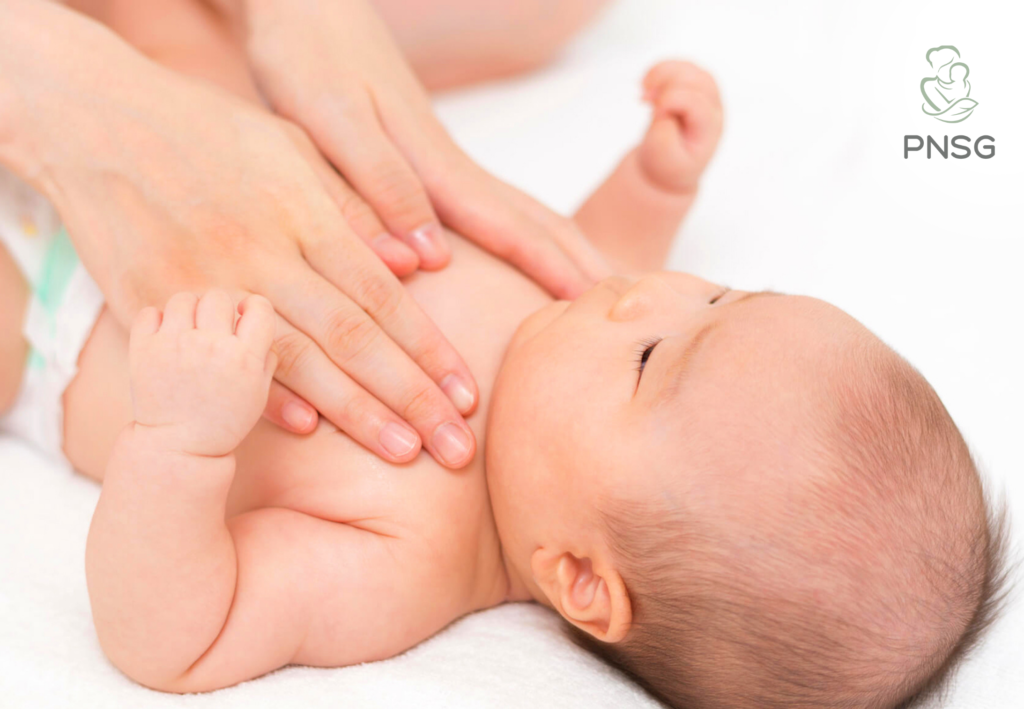 Apart from the main benefits of postnatal massage that we mentioned above, at PNSG, all mommies who book our postnatal massage package will get a free baby massage tutorial, which will be demonstrated by our experienced therapist in person, in the comfort of your own home!
In case you've never heard of a baby massage before, it actually offers quite some useful benefits for babies on top of calming them down and helping them to relax:
Helps Baby Sleep Better
Baby massage helps babies relax their muscles, eliminate trapped "wind", and soothe them to have better sleep to build a stronger immune system.
Support Baby's Growth & Development
Baby massage helps stimulate babies' nervous systems and promote their motor skills development and sensory development.
Promote Baby's Circulatory Systems
Baby massage helps babies to improve their digestive system, improve blood circulation and reduce their discomforts caused by gas, congestions or teething.
In conclusion, PNSG's postnatal massage offers many significant benefits for mothers and newborns. So if you've been searching to get the best maternity massage in Singapore, give our postnatal massage a try!
In the meantime, if you're looking to get effective postnatal healing and visible postnatal weight loss with your massage, we recommend you give our premium postnatal massage a try too! Our premium postnatal massage is a combination of postnatal massage, slimming massage, and relaxation massage.
Learn more about our massage packages, call us at +6564179690 now!