How Massage Helps Mothers Lose Their Baby Weight – As Shared by Real Moms
How Massage Helps Mothers Lose Their Baby Weight – As Shared by Real Moms
Another month, another chance to share real experiences and reviews on our massage from real moms! As we've been talking about weight loss after birth a lot these past few weeks, you might be intrigued to see how or whether there are moms who achieve their weight loss goals with PNSG. As a matter of fact, yes there are!
Does massage really help with postpartum weight loss? How?
It does, but only if you opt for the right massage! If you particularly want to lose weight through massage, then it is important to know what kind of massage you are getting and what other treatment is also included in the sessions, if any. A postpartum self massage could help, but you might want to leave it to the professionals who would know just the way to tackle all your concerns and worries!
At PNSG, weight loss, fat burning, and reduced waistline are all proven results that our clients manage to achieve from their sessions with us.
How do we do this? Here's a brief introduction to our Premium Massage:
Our Premium Postnatal Massage quickly becomes the mothers' absolute favourite, very much deservingly so! It is the all-in-one authentic Javanese recovery and slimming therapy that helps you get effective postnatal healing and visible postnatal weight loss.
With 10 sessions of rejuvenating sessions in total, it begins with 5 sessions of Postnatal Massage followed by 5 Sessions of Slimming & Relaxation Massage.
We've included a simple breakdown of the steps in each session HERE.
Apart from relieving swellings due to water retention and helping you to effectively slim down, our postpartum belly massage as part of the whole massage also helps to speed up your womb recovery. It still includes a breast massage that improves lactation and ensures smooth breast milk flow, as well as promoting milk production altogether. All that goodness for yourself and your little one!
On top of that, this massage also includes a full body scrub that exfoliates your dead skin cells, giving you a brightened radiance and smooth skin complexion. With the usual relaxing benefits you can get from massages, you can also to have a better night's sleep after this!
What other benefits can a postnatal massage provides?
Speeds up postnatal recovery
One of the main benefits of our postnatal massage is that it helps you to speed up your postnatal recovery in many aspects. First of all, our postnatal massage helps promote womb recovery by encouraging the discharge of lochia, and also the repositioning of pelvic muscles and abdominal organs.
Furthermore, many mothers find our postnatal massage helpful in reducing post-surgery swellings. Whether you're planning to give birth through vaginal delivery or c-section, you're likely to experience swellings and sore muscles after the surgery. Our postnatal massage helps to ease sore spots and relaxes muscle tension, especially on your tummy, lower back and hip area.
As your postpartum discomforts are relieved after each session, you are likely to feel more like yourself again, and hence you'll have more time and energy to bond with your baby. Hence, in a way, postnatal massage benefits your baby too!
Relieves water retention
Water retention around the limbs is a common struggle among mothers during the postpartum stage. In some cases, they can restrict your movement and affect your quality of sleep. At PNSG, our unique Javanese massage helps you relieve water retention around your thighs, abdomen and arms, as well as promotes blood circulation to help your body burn fat easier.
Soothes breast discomforts and eases breastfeeding
Many mothers would agree that breast issues like breast engorgement, blocked ducts and even mastitis are the most challenging part during the postpartum stage. They are painful, and often cause a lot of stress as they may affect the supply of milk that you provide to your newborn!
At PNSG, our postnatal mom massage includes a breast massage that helps to breastfeed mothers to improve blood circulation and decrease swellings around the breasts and also helps to naturally lower stress hormones. Many nursing mothers found breast massage effective in relieving breast engorgement and increasing milk supply.
Promotes better sleep and improves mood
As much as physical recovery is important, your emotional well-being plays an important role in ensuring a proper postpartum recovery too. The first few weeks after your baby's arrival is often a period where both you and your partner are constantly tired and sleep-deprived, as both of you need to frequently attend to your newborn's needs. Luckily, PNSG's postnatal mom massage can significantly help mothers to improve better rest and sleep by promoting calmness. When you're in a positive mood and mental space, you'll be able to focus better on spending time with your newborn.
Extra Perk for PNSG Customers: Free Baby Massage Tutorial!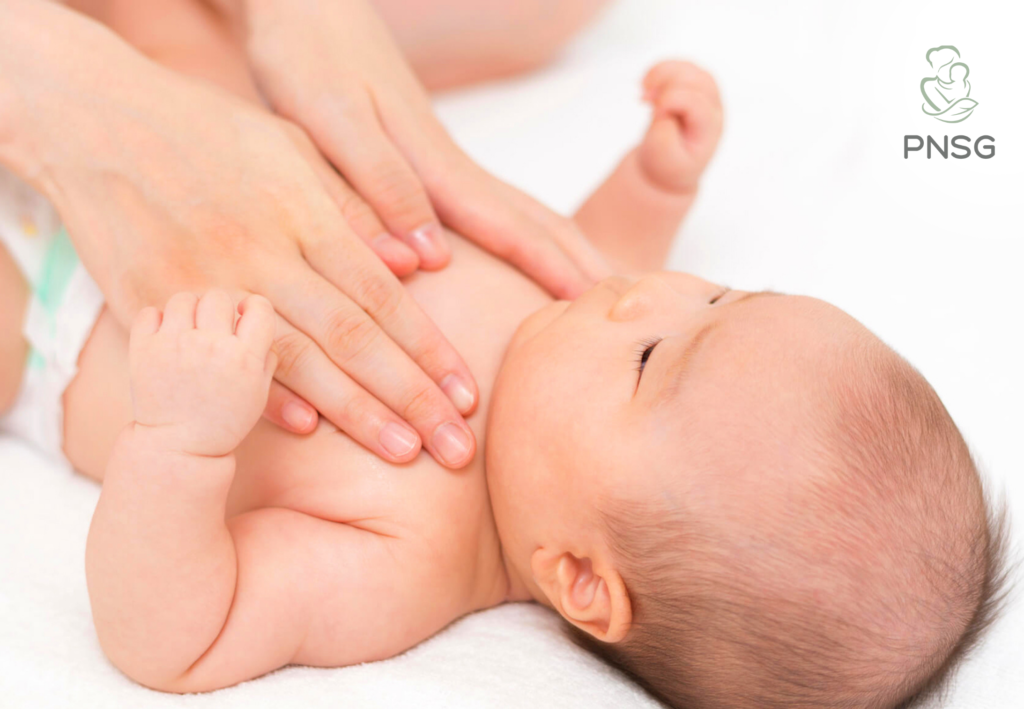 Apart from the main benefits of postnatal massage that we mentioned above, at PNSG, all mommies who book our postnatal massage package will get a free baby massage tutorial, which will be demonstrated by our experienced therapist in person, in the comfort of your own home!
In case you've never heard of a baby massage before, it actually offers quite some useful benefits for babies on top of calming them down and helping them to relax:
Helps Baby Sleep Better
Baby massage helps babies relax their muscles, eliminate trapped "wind", and soothe them to have better sleep to build a stronger immune system.
Support Baby's Growth & Development
Baby massage helps stimulate babies' nervous systems and promote their motor skills development and sensory development.
Promote Baby's Circulatory Systems
Baby massage helps babies to improve their digestive system, improve blood circulation and reduce their discomforts caused by gas, congestion or teething.
In conclusion, PNSG's postnatal massage offers many significant benefits for mothers and newborns. So if you've been searching to get the best maternity massage in Singapore, give our postnatal massage a try!
In the meantime, if you're looking to get effective postnatal healing and visible postnatal weight loss with your massage, we recommend you give our premium postnatal massage a try too! Our premium postnatal massage is a combination of postnatal massage, slimming massage, and relaxation massage.
---
Disclaimer: Image for illustration purposes only. However, all reviews are genuine from our real clients, as posted by them on our Facebook.
Weight Loss & Body Transformation Reviews With PNSG
If you have given birth a long time ago, our Slimming & Relaxation massage is still suitable and can be effective for you. In fact, it is recommended for adult women at any stage. So don't wait up and secure your slot today!
When you're ready to be the next mom to achieve a natural weight loss journey through our postnatal jamu massage, you know where to find us! We are available at +65 6417 9690, every day from 9 AM to 6 PM.